by Sena Wazer
The first panel I attended at COP26 was focused on Climate Refugees. Honestly, it's ironic when you consider that COP26 has a severe lack of focus on climate refugees included in the actual platform and agenda, even though more and more people are being displaced and will continue to be displaced moving forward. However, it was also one of the best panels that I attended during my time at COP26 because of a speaker named Emtithat Mamhoud. She is a Sudanese-American poet whose family fled from Sudan as refugees during the Darfur genocide, moving to the United States in 1998.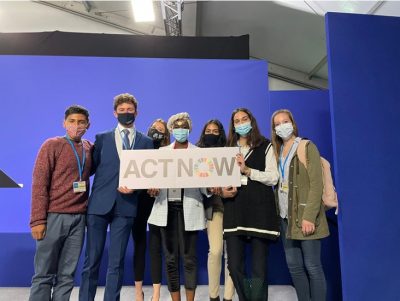 She spoke about the need to listen to climate refugees and ensure that they are present and included in the spaces where decisions are made. She expressed frustration that resonated deeply with me regarding the lack of meaningful equitable climate action that generally comes out of these COP meetings. She shared a new poem, named, Di Baladna – Our Land in English – which starts off with the following quote:
"If you are reading this, I forgive you/You have grown far from the heart of me my child/have lost the familiar love we held for one another in your first years of life."
Hearing her speak this poem gave me chills.
This experience was very powerful, and also very different from many of the events I attended. It was different because Mahmoud spoke from a personal perspective, being a refugee who has been affected by environmental issues herself. While many events – although certainly not all – felt impersonal, this one struck a deep chord with me and others in the room. It is indicative, I believe, of what effective environmental communication can do. Specifically, it helps one to understand a different perspective and more effectively convey an environmental issue in a way that feels personal and real. Through listening to people like Emtithat, I hope that bolder and more equitable climate action is possible. I believe it is, and if we are able to achieve this then I think COP could become a much more just and equitable place.