The Green Office Certification Program is aimed at reducing the campus environmental footprint, one office at a time. The OS aids offices on campus in becoming an active part of this movement through an online survey that assesses sustainable behavior. Once we receive the results from these surveys, we score them to determine how the office ranks competitively among other UConn offices and provide tailored suggestions for each office's improvement. We also offer offices the chance to recertify and improve their score! If you would like to do so, simply submit the survey again for your office.
Fill out this survey to join the team!  University of Connecticut's Sustainable Office Guidelines
95 green offices have been certified at the University of Connecticut as of January 2023
Help us reach our goal of 100 offices certified by the end of this year!
Any questions about this program may be directed to the OS at sustainability@uconn.edu, or call (860) 486-5773.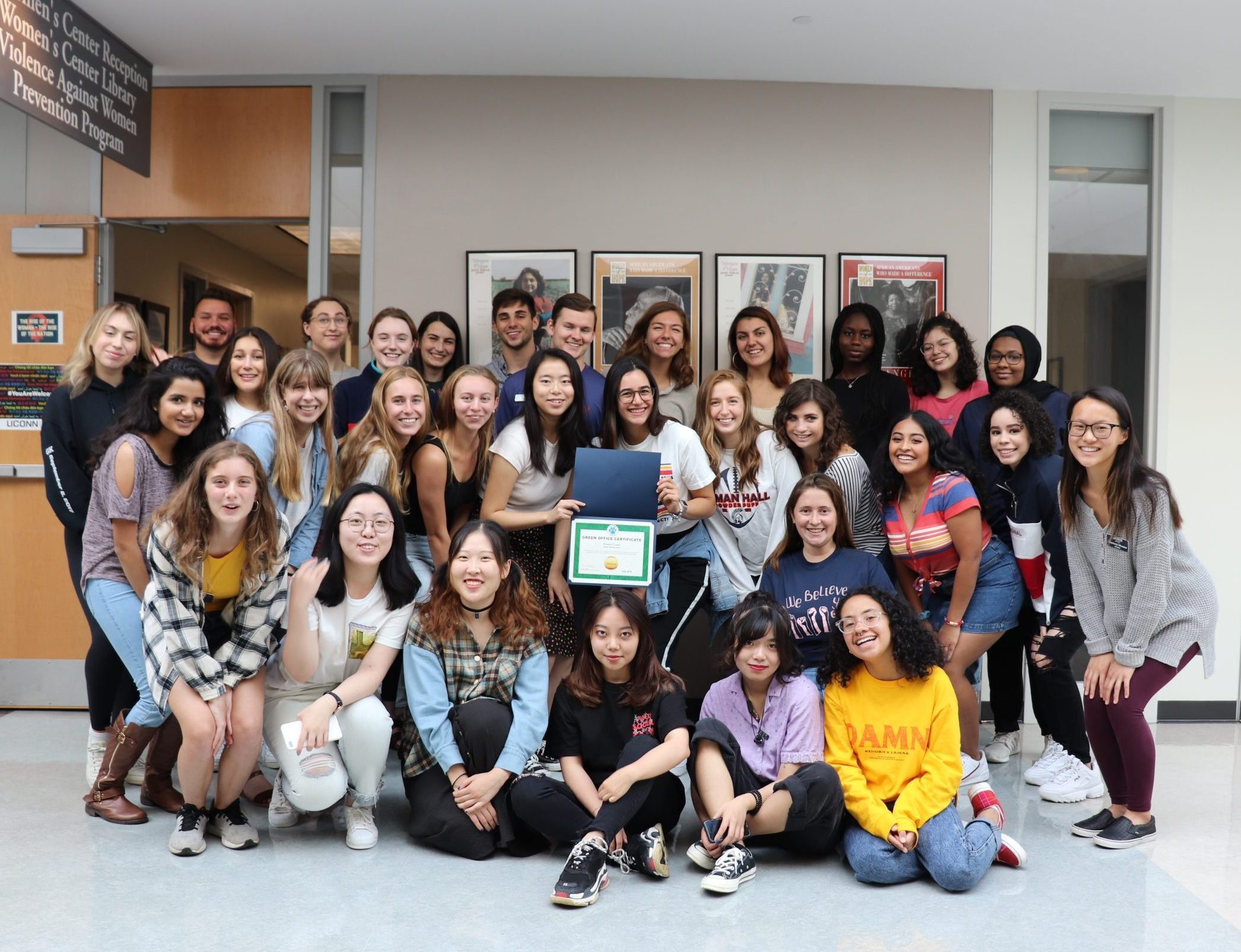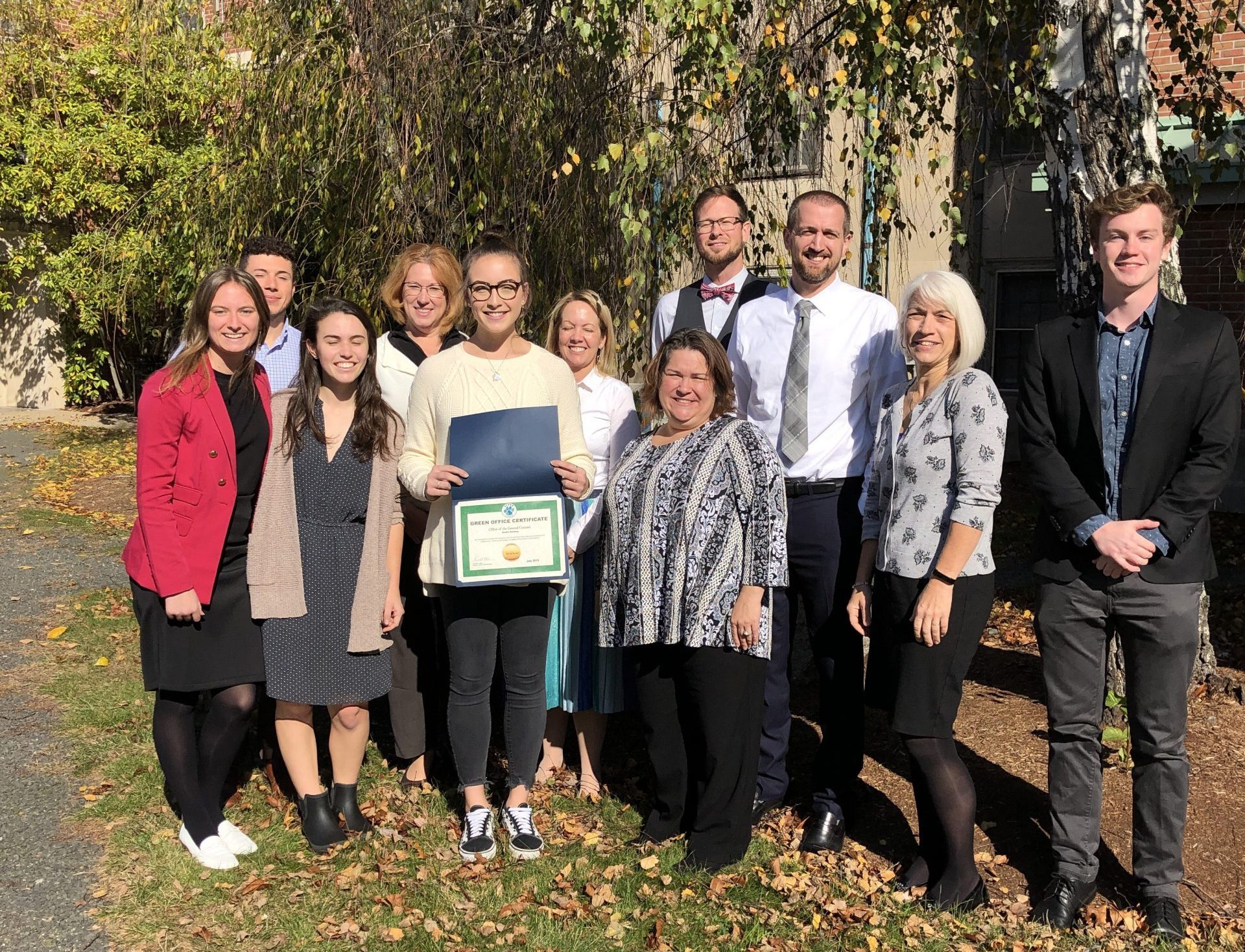 Platinum
Buckley Dining Services
Dining Services Main Office
Global Training and Development Institute
Greenhouse Studios
Department of Educational Psychology
Gold
The Benton Museum of Art
Center for Judaic Studies
Child Development Laboratories
Community Outreach Office
Community Standards Office
Department of Computer Science and Engineering
Department of Human Development and Family Studies
Department of Sociology
Department of Statistics
Facilities Operations Finances
Hartford County Extension Center
Humanities Institute
International Student & Scholar Services
International Studies Association, Global Affairs
Natural Resources and the Environment
Office of Accounts Payable and Travel
Office of Sustainability
Office of the General Counsel
Office of the Registrar
Office of the Vice President for Research
Pre-College Summer
Rainbow Center
UConn Supplier Diversity Program
University Events and Conference Services
Women's Center
Bronze
Busby Hall Director's Office
Center for Career Development
CLAS Academic Services Center
Department of Allied Health Sciences
Department of Educational Leadership
Department of Political Science
Honors Programming & Events Office
Institute for Collaboration on Health, Intervention & Policy
IT Enterprise Admin Systems
Office of Early College Programs
Student Affairs Information Technology
UConn Foundation
Undergraduate Admissions
Silver
Academic Center for Exploratory Students
Asian American Cultural Center
Avery Point community and Professional Building
Biobehavioral Research Laboratory, School of Nursing
CAHNR Office of the Associate Dean
CAHNR Office of the Dean
Center for Public Health and Health Policy
Center for Students with Disabilities
CLAS Office of the Dean
Connecticut Education Network
Department of Anthropology
Department of Chemistry
Department of Electrical & Computer Engineering
Department of English
Department of Finance
Department of Geography
Department of History
Department of Molecular and Cell Biology
Department of Physiology & Neurobiology
Departments of Philosophy and Sociology at Avery Point
Employee Assistance Program
Enrichment Programs Office
Learning Communities Office
Lodewick Visitors Center
NEAG Office of the Dean
Northwest Marketplace
Office of Ecology & Evolutionary Biology
Office of Institutional Equity
Office of Orientation Services
Office of the President
Office of the Provost
Office of Student Financial Aid Services
Office of the Vice President for Student Affairs
Physiology & Neurobiology Lab Offices
PRLACC
School of Business ITS
School of Engineering Development Office
School of Nursing
Shippee RA Office
The Graduate School
The Honors Program
University Communications