Sustainability's Community at UConn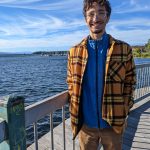 Starting my internship in the Fall of 2021, I remember feeling so isolated. After a year online in which no friends were present and no clubs were active, I came back to a community that I felt estranged from. I walked to the Office of Sustainability on a sweltering summer day and the sweat on my palms wasn't from the heat (if you catch my drift). I entered feeling so unsure and nervous if I belonged and Cherie Taylor, our Administrative Coordinator, turned to me from her window and said "Sam! I'm so glad you're here with us!" No words ever impacted me like those. My trepidation evaporated with my sweat.
My time at the OS showed me what a sustainable and kind world looks like. Sustainability can be a difficult community to enter. If statistics and research has taught Gen-Z anything it's that the climate crisis is immense and action needs to occur immediately and effectively. And I think we tend to act with righteousness with our actions. How can anyone speak up and feel welcome under such conditions? I have felt unwelcome and isolated personally in rooms with other environmental students (and I consider myself someone who knows a thing or two about sustainability at UConn).
But as I write this, I encourage you to beware of this single story. While there are certainly people here who will make you feel small and gaslight you into thinking you're not sufficient, the staff and students at the Office of Sustainability are anything but. We have a small staff, three full-time staff members (one of which was only hired a month ago) and 1 part-time employee. Betsy, Patrick, and Cherie have kept the OS running without a director for the last two years. They are overwhelmingly kind, supportive and knowledgeable. Beyond being supportive of the interns and EcoCaptains, I have seen them aid other staff and faculty across the university in addition to the large numbers of students that approach the office. Never once have they made me feel like I was not enough. They are role models that I hope to emulate when I enter the "real world."
Working on a team of likewise amazing interns has also been life changing. During my time at the Office of Sustainability, I have collaborated with the other interns on a number of projects including the submission of UConn's Greenhouse Gas Inventory, UConn's 6th & 7th Bee Campus USA Certification, UConn's 9th & 10th Tree Campus USA Certification, Haunted HEEP & EDSF, AASHE STARS, EcoMadness, RecycleThon, etc. The other interns provide fresh perspectives and are always immensely passionate and helpful. It's these people that make me feel hopeful for the future.
Beyond the OS, I have found other sustainability-oriented professionals across the university to be immensely passionate and helpful. Through my variety of projects, I had the opportunity to collaborate with a number of professionals ranging from Katie Milardo in Facilities Operations to Eileen McHugh in Planning & Design. I think this was the real driver of my change and growth in undergraduate. You learn many important skills such as professional communication and while these are important, I think what most influenced me was the second-hand passion that I received from these people. There are a number of people across UConn that work on the sustainability of our school and they go above and beyond for student interns at the OS – that's why I named Eileen and Katie particularly.
Leaving UConn won't be easy. I have roots here and to a degree graduation feels like someone is pulling me out like a weed. But my experience at the OS has prepared me to be transplanted at the University of Michigan and succeed. I think in grad school I want to be more intentional and appreciative of where I am – I have deep gratitude for my time at UConn and the OS and I hope to cultivate a community like the one I have interacted with here. As Mariah Carey once said, "Why ruin the journey by watching the clock and the ticking away of years?"
---