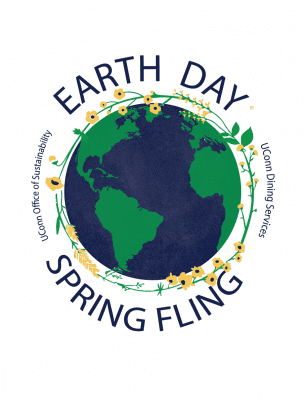 Earth Day Spring Fling is an annual celebration of sustainability co-sponsored by UConn's Office of Sustainability and the Department of Dining Services. Established in 2008, the festival features vendors of sustainable and hand-crafted goods, organic and local foods, environmental organizations, and student groups that join together to produce the greatest day of environmental awareness all year! Coinciding with with the event is UConn's annual Arbor Day celebration and ceremonial "class tree" planting.
Earth Day Spring Fling - 2022
Wednesday, April 20
11a-2p on Fairfield Way
Event Highlights:
Zero Waste BBQ: Dining Services is catering an outdoor, zero-waste BBQ featuring vegan, vegetarian and sustainable food options sourced locally. Note - the BBQ requires a flex pass or $12 credit/debit card.
Flora + Fauna Cupcakes
Dairy Bar Truck
Environmental Art Show: Show off your eco-related art! Submit your art entry.
12-1p Goat Yoga: Yoga alongside the little goats of Bradley Mountain Farm. 75 person cap - you must register beforehand. Bring your own towel or yoga mat to Founders Green.
Party Peddler Bike: Hop on the 10 person bike for a tour of sustainability along Fairfield Way.
125th Anniversary of Class Tree Plantings: As a certified Tree Campus, we're happy to plant the Class of 2022's student-selected Three-Flowered Maple on the north side of Wilbur Cross from 1-2pm.
Eco-Vendors: Meet with student and community organizations dedicated to sustainability, as well as eco-minded businesses along Fairfield Way.
Interested in representing your student organization, sustainability nonprofit or eco-business at the event? Fill out our vendor form by April 1.
For more information, please email sustainability@uconn.edu.
Click through the slide deck below to see what this event has looked like in previous years!