Purpose
EPAC is advisory to the President, Provost and other senior administrators about strategies for enhancing the University's environmental performance in:
Fostering environmentally sustainable development and mitigating the environmental impacts of our construction activities
Improving environmental compliance in our operations
Distinguishing our academic, operational and community outreach reputation by promoting environmental leadership initiatives
Better integrating environmental principles into the University's governance by ensuring coordination with administrative advisory committees and task forces

Functions
The EPAC meets once per semester, or as needed, and may appoint committees and task forces in order to:
Develop and revise UConn's environmental policy statement.
Identify environmental risks and recommend goals, policies and procedures to address risks and improve environmental performance.
Identify opportunities and sponsor initiatives designed to advance and achieve environmental sustainability.
Develop strategies for building environmental awareness and engaging students, staff and faculty in environmental initiatives.
Advise the University about conservation and development plans and activities.
Formulate strategies for dealing with stakeholder groups on environmental issues.
Monitor the University's environmental performance and sponsor periodic environmental reports.
Help organize and promote outreach events and partnerships that showcase the University's environmental leadership.
Nominate and select recipients of the University's environmental leadership awards.
2021 – 2022 EPAC Members
Students & Alumni
One-year/Two-year terms
Alumni Representative
Brian Paganini, VP & Managing Director, Quantum BioPower (BUSI '03)
Undergraduate Student Representatives
Brandon Hermoza-Ricci, B.S. Civil Engineering, Urban & Community Studies 2022
Chase Mack, B.S. Environmental Science & B.A. Political Science 2023
Graduate Student Representative
Sabit Nasir, M.S. Energy & Environmental Management
Academic Administrators & Faculty
Two-year terms
College of Health, Agriculture & Natural Resources (CAHNR)
Indrajeet Chaubey, Dean
(Delegate) Jason Vokoun, Professor and Head, Department Natural Resources & the Environment (NRE), Director of Environmental Science B.S. Program
School of Engineering (SOE)
Kazem Kazerounian, Dean
(Delegate) Maria Chrysochoou, Professor and Head, Department of Civil and Environmental Engineering
College of Liberal Arts & Sciences (CLAS)
Dean Juli Wade
(Delegate) Lisa Park Boush,

Associate Dean for Research and Graduate Affairs,

Professor, Department of Geosciences

UConn Law School
Eboni Nelson, Dean
(Delegate) Joseph MacDougald,

Professor-in-Residence and Executive Director, Center for Energy and Environmental Law

At-Large Faculty
Two-year terms
Political Science
Oksan Bayulgen, Associate Professor and Director of Undergraduate Studies
Agriculture & Resource Economics
Syma Ebbin, Associate Professor In Residence, Research Coordinator of CT Sea Grant, Faculty Advisor, EcoHusky –Avery Point Campus
Geography
Carol Atkinson-Palombo, Associate Professor & Director of Environmental Studies B.A. Program
Center for Ecology and Evolutionary Biology
Mark Urban, Arden Chair and Professor of Ecology & Evolutionary Biology
Geography
Anji Seth, Professor, Department of Geography, Director of Atmospheric Science Group
EcoHouse Learning Community
Thomas Hayes, Associate Professor and Director of Graduate Studies Department of Political Science, Director EcoHouse Learning Community
Agricultural & Resource Economics
Kimberly Rollins, Professor and Department Head
President's Office
Two-year terms
University Communications
Tysen Kendig, Vice President
(Delegate) Mike Enright, Deputy Spokesperson
Community Relations
Cara Workman, Senior Director of Operations, Office of the President and Director, University Events and Conference Services
Athletics
David Benedict, Director
(Delegate) Evan Feinglass, Associate Director of Athletics, Facilities Management & Planning
Senior Operational Staff
Standing Member
Facilities Operations & Building Services
Mike Jednak, Associate Vice President
University Business Services, Purchasing Department
Gregory Daniels, Interim Associate Vice President & Chief Procurement Officer
University Planning, Design & Construction
Laura Cruickshank, Associate Vice President, Master Planner & Chief Architect
(Delegate) Sean Vasington, Associate Director & University Landscape Architect
At-Large Members
Two-year terms
Facilities Operations & Building Services
Stanley Nolan, Director, Utility Operations & Energy Management
Center for Land Use Education & Research (CLEAR)
Chet Arnold, Extension Educator, Co-Founder, Center for Land Use Education and Research (CLEAR) and CT Nonpoint Education for Municipal Officials (NEMO), Director CLEAR
Dining Services
Tracey Roy, Interim Executive Director
Student Affairs
Pamela Schipani, Executive Director of Residential Life
Avery Point Campus
Jim O'Donnell, Executive Director of The Connecticut Institute for Resilience and Climate Adaptation (CIRCA), Professor of Marine Sciences, Joint Professor of Physics
Department of Extension
Juliana Barrett, Extension Educator with the Connecticut Sea Grant Program and Center for Land Use Education and Research
Facilities Operations & Building Services
Aris Ristau, Director, Building Services
EPAC Workgroups
Membership in the EPAC workgroups is voluntary and consists of University faculty, staff, and students. If you are interested in joining one of these workgroups, please contact the workgroup chair whose information can be found on the websites below.
Zero Waste: evaluates current campus recycling, diversion, and waste management programs and makes recommendations and goals for the implementation of new initiatives. This workgroup's focus is to transition UConn to becoming a Zero Waste Campus using a holistic, collaborative waste management approach.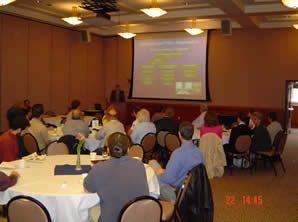 Former Subcommittees and Related Workgroups
Recycling and Waste Reduction Workgroup: formed to evaluate the effectiveness of components of the University recycling program and make recommendations for improvements and enhancements.
Land Use and Sustainable Development Subcommittee: formed to develop "green" building and low-impact design principles for our construction program, foster open space conservation, and encourage natural resource protection and habitat restoration.
Environmental Outreach Subcommittee: formed to promote environmental awareness and increase environmental responsibility within the UConn community; to enhance environmental literacy; and to improve the University reputation in environmental performance and community relations on environmental issues.
Compliance and Best Practices Subcommittee: formed to examine initiatives that impact day to day operations at the University, including "green" procurement, waste management, conserving resources, and minimization of air and water quality impacts. The subcommittee has since expanded to several workgroups focused on specific initiatives within the CBP scope of goals.
Environmental Literacy Workgroup: formed to assist in identifying and implementing initiatives that promote environmental awareness and education amongst the University community. This workgroup has since expanded to form the Green Campus Academic Network (GCAN), with the purpose of raising awareness among interested faculty members about opportunities for engagement and collaboration in campus sustainability activities, events, and research opportunities.
UConn Climate Action Task Forces: Transportation,
Sustainable Development, Energy, and Water Conservation workgroups were appointed as part of the UConn Climate Action Task Forces. These task forces have since accomplished their primary task of writing their respective sections of the Climate Action Plan (CAP), but may be reconvened in the future for updates and revisions.