Electronic waste ("E-waste") consists of damaged or discarded electronic devices and associated materials. E-waste items should not be disposed of in the normal trash due to their high concentrations of toxic chemicals and heavy metals. Examples of e-waste include rechargeable batteries, toner and ink cartridges, cell phones and chargers, iPods, MP3 players, televisions and computers.
Students, faculty, and staff are able to recycle all personal e-waste through the Office of Sustainability's partnership with Central Stores, who ensures that the waste is recycled appropriately.
Campus Collection Points
You can drop your e-waste off into specially marked bins in the following locations: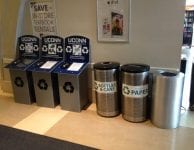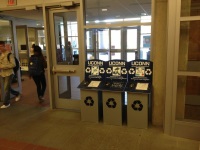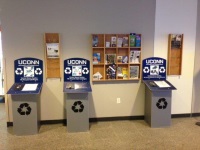 The Bookstore bins are located about thirty feet in from the front doors on the right and the Library bins are at the west entrance.  The Student Union bins are at the Fairfield Way entrance and adjacent to the information desk.
Hazardous Waste
For information on disposal of hazardous waste, including lab waste, look here.