Formed in the fall of 2004, EcoHusky is a UConn student group focused on environmental awareness and sustainable living on campus. The group organizes many exciting projects and events in conjunction with the Office of Sustainability and other environmentally-oriented organizations on campus and in the local community. If you are looking to get involved, make friends, learn, and spread awareness about the environment, then EcoHusky may be the club for you!
To join the mailing list or to learn about upcoming events and meeting times, email us at ecohusky@gmail.com.
Join the EcoHusky Group on Facebook and follow @ecohusky on Instagram.
Click here to view the EcoHusky Constitution.
2019-2020 EcoHusky Officers
President 
Emma MacDonald
Vice President
Mara Tu
Secretary
Caitlin Daddona
Treasurer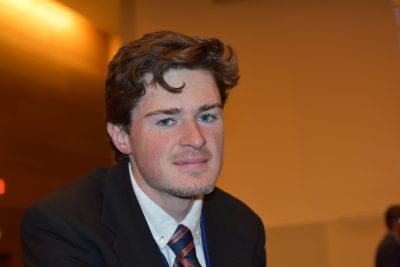 Chase Mack
Advocacy and Activism Chair
Khadija Shaikh
2019-2020
| Name | Officer Position |
| --- | --- |
| Liz Wimpfheimer | President of Communications |
| Emma MacDonald | President of Services |
| Travis Kornegay | Vice President |
| Mara Tu | Treasurer |
| Spencer Bennett | Secretary |
| Lauren Roper | Advocacy and Activism Chair |
2018-2019
| Name | Officer Position |
| --- | --- |
| Sabit Nasir | President of Communications |
| Nikki Pirtel | President of Services |
| Julia Lindblom | Vice President |
| Mara Tu | Treasurer |
| Liz Wimpfheimer | Secretary |
2017-2018
| Name | Officer Position |
| --- | --- |
| Christen Bellucci | President of Communications |
| Adrianna Antigiovanni | President of Services |
| Eddie McInerney | Vice President |
| Katie Mae Main | Treasurer |
| Julia Peay | Secretary |
2016-2017
| Name | Officer Position |
| --- | --- |
| Christen Bellucci |  President of Communications |
| Adrianna Antigiovanni |  President of Services |
| Hannah Casey  | VP of PR |
| Katie Mae Main | Treasurer |
| Jessica Griffin | Secretary |
2015-2016
| Name | Officer Position |
| --- | --- |
|  Kerrin Kinnear |  President of Communications |
| Caitlin O'Donnel  |  President of Services |
| Marisa Kaplita  | VP of PR |
| Brianna Church  | Treasurer |
| Jessica August  | Secretary |
2014-2015
| Name | Officer Position |
| --- | --- |
|  Emily McInerny |  President |
| Shilpa Kolli  |  VP of Service |
| Kelly Morrissey  | VP of PR |
| Paige Gregory  | Treasurer |
| Caitlin O'Donnel  | Secretary |
2013-2014
| Name | Officer Position |
| --- | --- |
|  Jessica French |  President |
| Kerrin Kinnear  |  Vice President of PO |
| Shilpa Kolli  | VP of Service |
| Kelly Morrissey  | Treasurer |
| Emily McInerny  | Secretary |
2011-2012
| Name | Officer Position |
| --- | --- |
|  Kathy Tsantiris |  President |
| Laura Dunn |  Vice President |
| Skyler Marinoff | Treasurer |
| Christina Tobitsch | Secretary |
| Tim Brogan | Advertising Director |
2010-2011
| Name | Officer Position |
| --- | --- |
|  Fiona Stewart |  President |
| Catherine Pomposi |  Vice President |
| Skyler Marinoff | Treasurer |
| Chris Oprica | Secretary |
| Kathy Tsantiris | Advertising Director |
2009-2010
| Name | Officer Position |
| --- | --- |
|  Emily Galanto |  Co-Coordinator |
| Kayleigh Lombardi  | Co-Coordinator |
| Catherine Pomposi  | Steward |
| Aaron Grade  | Treasurer |
| Kathy Tsantiris  | Secretary |
| Matthew Tumpney  | Director of Creative Affairs |