As UConn and Mansfield envision our future over the next 50 years, it's clear that an additional source of water will be required to meet the needs of both the town and the campus in the coming decades. Our shared goal is not just development, but sustainable development, of important proposed projects such as the long-awaited UConn Tech Park on our North Campus, a managed retirement community in Storrs, and the commercial redevelopment of the Four Corners area, about a mile north of campus on Route 195.
That's why, nearly two years ago, UConn and the town embarked on the public process of an Environmental Impact Evaluation to identify and evaluate several alternative sources of water supply, each of which would be capable of adding up to 2 million gallons a day, or nearly double the water system's current capacity on a typical late-summer day.
Since then, inquiring minds want to know: What has the University done to conserve water, reduce demand, and stretch its current water budget? In other words, has UConn demonstrated that it is deserving of more water by being a good environmental steward of its current drinking water resources?
The answer is yes, according to an experienced environmental and water planning professional, David Murphy of Milone & MacBroom. Over his nearly 20-year consulting career, Murphy has prepared water supply plans for 15 different water companies and public water supply systems throughout the Northeast. "I've never seen conservation like I've seen at UConn," he announced to a large audience assembled at the UConn Health Center in Farmington last December.
Okay, so Murphy is UConn's water consultant and made this observation while kicking off the University's second public hearing on the draft Environmental Impact Evaluation – it would be fair for some to question his objectivity. But his comment was a completely unsolicited professional opinion and, more importantly, it's based on the University's record over the past seven years.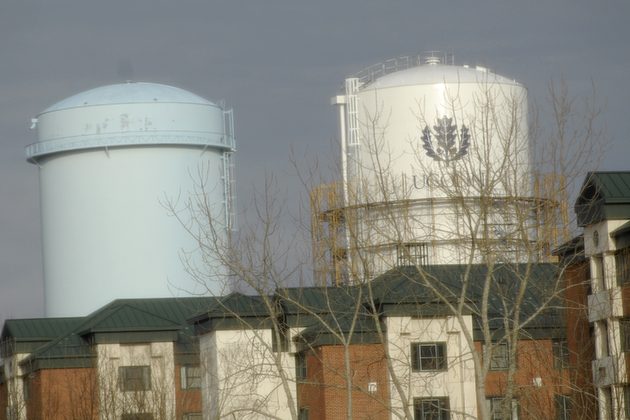 Improvements to our system's infrastructure, equipment, and controls have yielded the largest reductions in consumption, albeit at the greatest expense. Seven years ago, UConn instituted an ongoing leak detection and repair program to find and fix broken water mains and distribution pipes that each can waste tens of thousands of gallons a day. An improved sub-metering program and new monitoring devices have enhanced our ability to identify even small leaks, which would have gone undetected years ago. We also improved controls and pumping schedules that prevent routine overflows and loss of water from our storage tanks and underground reservoirs.UConn takes its water resources stewardship seriously. The record shows that in 2012, our system used an average of 225,000 gallons per day less than it did seven years ago, and 350,000 gallons per day less than it did 10 years ago, despite serving a larger population. Our water conservation strategies fall into three categories: supply system improvements, demand-side installations and retrofits, and behavioral changes. This post will highlight supply-side conservation measures and, in a future blog post, Part 2 will focus on the rest.
But clearly, the most innovative and beneficial conservation-based supply system improvement will be up and running next month, when construction of the $25 million reclaimed water facility is completed and the facility begins operating. The reclaimed water facility will save up to 500,000 gallons per day when it's needed most, by treating and reusing effluent from UConn's sewage plant. This reclaimed water will be used for purposes that don't require drinking water quality, such as cooling and boiler make-up water at UConn's cogeneration facility and central utility plant. In the future, it could also be used to irrigate certain athletic fields on campus, further reducing our current demand for potable water.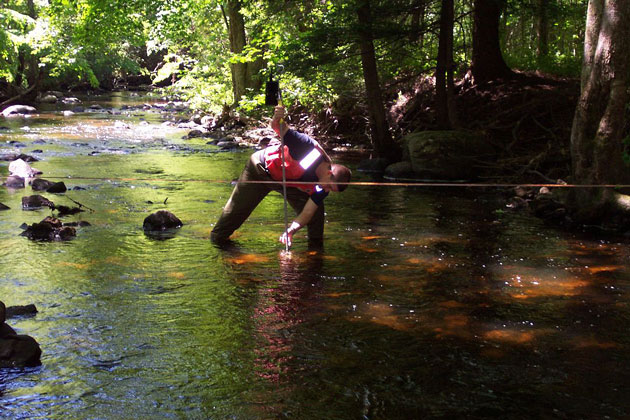 UConn carefully monitors flow in the Fenton River near one of its two wellfields, using among other things an automatic USGS stream gauge installed in the river just upstream of the wells.
Aside from these capital and equipment investments in water conservation, UConn also protects aquatic habitat by curtailing pumping from its wells based on real time measurement of stream flow in the river near its wellfield. This protocol was adopted by the University as a result of an unprecedented three-year study, completed in 2006, which verified the impact of pumping from these wells on reduced flow rates in the Fenton River during drought-like conditions.
The practice has since been formalized inUConn's Drought Emergency Response Plan, which prescribes that we will ratchet back pumping when the automatic stream gauge in the Fenton River records flow rates as low as six cubic feet per second. Further along during an extended periods of dry weather, when low flow in the river reaches three cubic feet per second, and typically much sooner, UConn will stop pumping from the Fenton wellfield altogether.
Simultaneously, the University will issue Water Conservation Advisories to all system users. If drought conditions persist and streamflow in the more robust Willimantic River, near UConn's primary wellfield, also drops to certain levels, then water conservation measures at the University become mandatory, such as prohibiting vehicle washing and use of UConn water for dust control at construction sites.
Our wellfield management strategy has been effective in preventing induced infiltration that can exacerbate low-flow conditions in the Fenton River, especially during summer droughts in 2007 and 2010. As climate change threatens more frequent and extreme weather events, including extended hot, dry periods and severe storms, UConn is bolstering the resiliency of its system while protecting aquatic habitat, and will continue to follow these stringent emergency water conservation procedures.
Next: UConn's demand-side water conservation measures and outreach to promote water use behavioral changes.